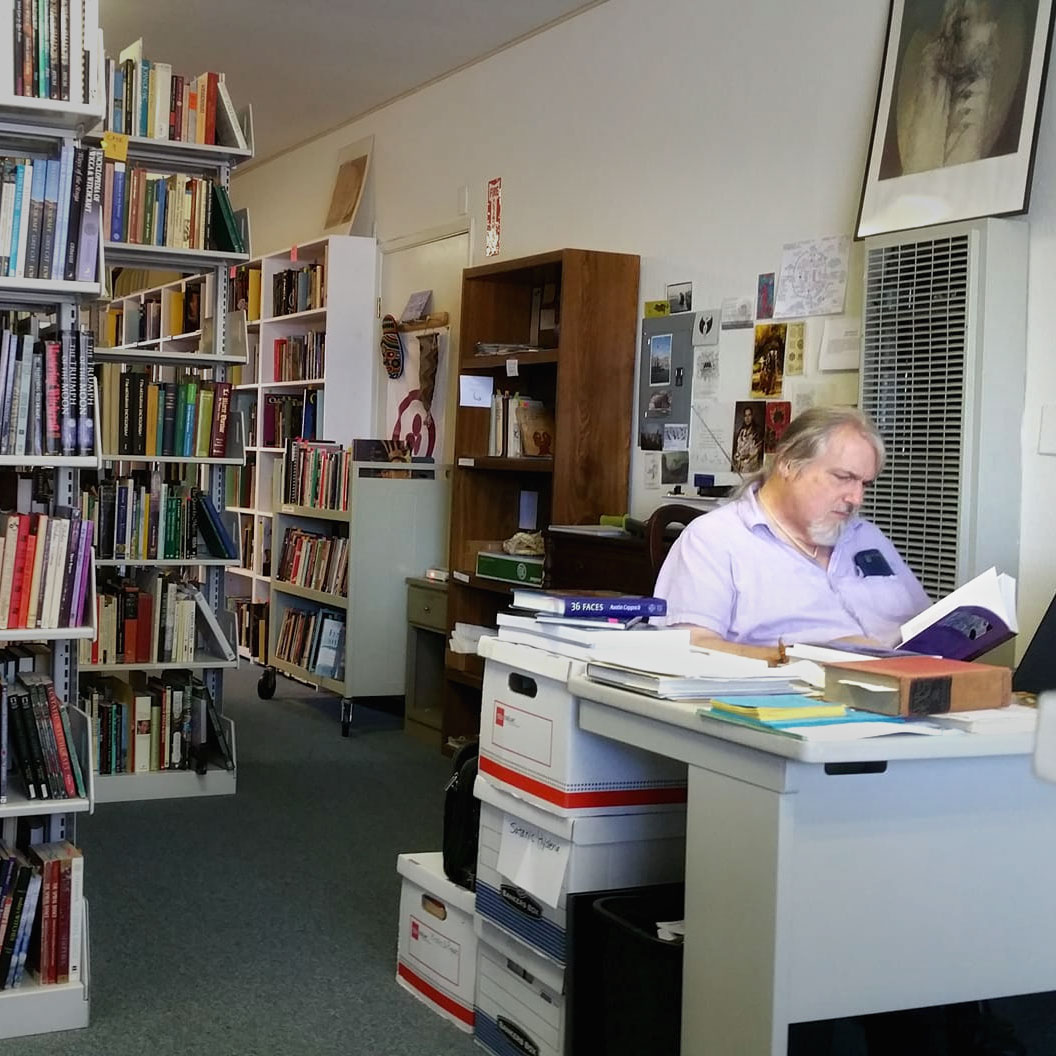 Don Frew catalogs books at the Adocentyn Research Library.
What is the Adocentyn Research Library?
The Adocentyn Research Library is an on-site use only, multi-cultural, and inter-religious library serving the East Bay and the world. Founded in 2011, we are a California Nonprofit Public Benefit 501(c)(3) corporation.
The purpose of the Adocentyn Research Library is to collect, archive, preserve, and make available information related to Paganism—understood as all Indigenous, tribal, polytheistic, Nature-based, and Earth-centered religions, spiritualities, beliefs, practices, and cultures around the world and throughout human history. This includes a broad range of information on Pagan diversity, history, beliefs, adherents, organizations, and many related areas of study for use by researchers, scholars, and the general public.
Our catalog of the over 17,000 books on our shelves is available to the general public online.
We welcome donations of books, periodicals, ephemera, and funds! Contributions to us are tax deductible.
If you are interested in being involved or learning more, contact us at info@adocentynlibrary.org.
Why "Adocentyn"?
When we were considering names for our Pagan library, of course "Alexandria" came to mind, as it does for almost all Western Pagans when they think of "Pagan" and "library", but there are already several existing libraries named after that famous repository of wisdom.
Then inspiration struck…
In the Hermetic dialogue called the Asclepius, Hermes Trismegistus prophesied that a time would come when the people would no longer worship Nature as a manifestation of the Divine and that the Gods would withdraw from Egypt to dwell in a city "to the furthest west from Egypt", leaving mankind to "the tyranny of the angels". Eventually, Hermes promised, the Gods would venture out into the world again from this city, restoring the worship of Nature and the old wisdom.
The Picatrix identifies this city as "the City of Hermes" and names it "Adocentyn", based on the Latin ad occidentem or "to the West".
Well, San Francisco is about as far west from Egypt as you can get… and we even already have our own pyramid. 😉
Conveniently located in one of the largest Pagan communities on Earth, ARL is an hour or less away from three major cities—San Francisco, Oakland, and San Jose—in the SF Bay Area's East Bay. We are in a neighborhood full of restaurants & cafes, easily accessed by public transport, and near two major universities—UC Berkeley & the Graduate Theological Union.
Hours of Operation
The pandemic and its aftermath kept us closed for a while, but we will be open for regular weekly hours soon!
In the meantime, we are open by appointment and on the monthly volunteer days.
Contact us at our email: info@adocentynlibrary.org.
Check back for updates.
4:00pm to 8:00pm

Noon to 6:00pm

By Appointment
Volunteer Cataloging Hours
Noon to 6:00pm

Noon to 6:00pm

Noon to 6:00pm
Visitor to Adocentyn
One Day Use — No Stack Access
$5 donation requested
Scholar of Adocentyn
Multi Day Use — Stack Access
Copy of Student Photo ID
$30 subscription requested
Citizen of Adocentyn
Multi Day Use — Stack Access
Copy of Photo ID
$60 subscription requested
Patron of Adocentyn
Multi Day Use — Stack Access
Copy of Photo ID
$120 subscription requested
Board of Directors
Gus diZerega

Rowan Fairgrove

Don Frew

Anna Korn

Diana Paxson

Glenn Turner
Letters of Support
right click to read a letter